Spring 2018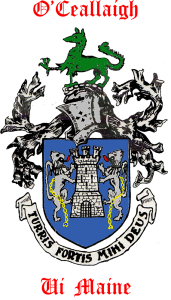 ---
In this issue:
Current Muintir Ui Cheallaigh,
Letter from the Editor,
Contact Details
The Ui Maine Athleague Kelly connection to Westport House,
Update on Michael Healy's Kelly Tour to County Mayo
Venue for Kelly Clan Gathering 2019.
Sites of Interest – XO Chronicles – practicing "reverse genealogy
Sites of Interest – Irish Lives Remembered, Ireland's Premier Digital Genealogy Magazine.
Information on updating subscriptions to the Kelly Clan.
---
Current Muintir Ui Cheallaigh Clan Council
Picture courtesy of Wanda Kelley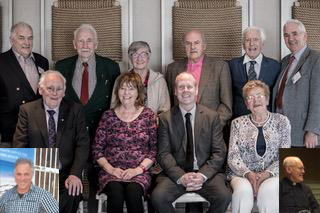 Front: Insert- Aidan Kelly (Asst. Coordinator, DNA) Michael Kelly (Treasurer), Mary Kelly Uachtaran, Count Robert O'Kelly (Clan Chief & The O'Kelly of Gallagh and Tycooley), Bernie Kelly (Secretary)
Insert- Rt. Rev. Dom Celsus Kelly. Back: Dr. Joe Kelly (Historian), Joe A. Kelly, Judy Kelly Fausch (Newsletter Editor), Dr. Des Kelly (Tanaiste), Sean O'Ceallaigh (Legal Rep), Tom Mernagh.
---
Letter from your Editor – Judy Kelly Fausch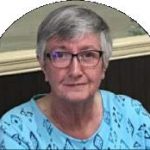 Whether you're experiencing a late spring as it turns into summer, or the remains of fall as you prepare for winter, we hope you're enjoying wherever you are. I find it somehow refreshing and renewing as we change seasons.
We extend our heartfelt condolences to Bernie Kelly, whom many of you know as our long-term faithful Secretary from the beginning of the Kelly Clan, on the death of her brother, George Cardiff on 24th January of 2018 (RIP)
In this newsletter, we have the results of a thorough ancestry search for Kellys associated with the Westport House in Co. Mayo, a reminder of a Kelly Tour to Co. Mayo in September, and Sites of Interest for anyone who is involved in genealogy and enjoys history.
As the Council plans ahead for the next Kelly Clan Gathering for 2019, we encourage you to share any ideas you have for programs, as well as possible places for publicity to reach more people.
---
Contact us with comments, questions, information to share.
---
The Ui Maine Athleague Kelly connection to Westport House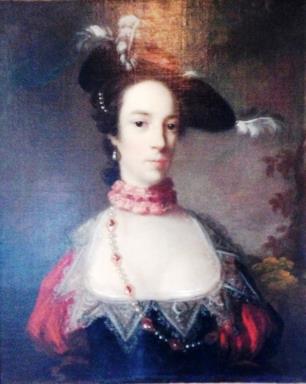 Submitted by Aidan Kelly
Introduction
My 2015 excursion to the Browne Family's Westport House in County Mayo revealed a strong connection to the Ui Maine Kellys of Galway and Roscommon. Amongst their art collection was this striking portrait of Elizabeth Kelly (1733-1765). Painted in 1752 by Thomas Hudson (1701-1779), a successful portraitist of the day, Elizabeth is beautifully poised with intent, then aged 19, the heiress of her own family fortune and soon to marry Westport's heir apparent Peter Browne (1731-1780). Peter was to become the 2nd Earl of Altamont and their son the 1st Marquess of Sligo. Elizabeth died aged 32.
After the visit I took a closer look at the life story of Elizabeth Kelly. The quest was to find her Kelly line. That was not found but an interesting story was along with a lot of unanswered questions. The main finding was that the House of Westport had benefitted from the resources of many strong women over the generations – not the least a large inheritance from the Kelly side.
The key to this research was the Westport Estate Papers (National Library of Ireland Collection Landed Estate Papers and Deeds List No. 78). Available on the net and searchable, the summary list contains a lot of clues to the Kelly-Brownes. (Here are my notes – comments welcome. Aidan Kelly)
In the beginning
The Westport land was originally occupied by Colonel John Browne (1638–1711) and his wife Maud Bourke (daughter of 3rd Viscount Bourke). They say that Maude was one of Grace O'Malley's great-granddaughters. Colonel John was Anglo-Norman but Catholic. He sided with the Jacobites in the Williamite War and was present as a lawyer in 1691 when the Treaty of Limerick was settled. Later he conformed to the Church of Ireland.
A good example of one of the historical facts that are easily gleaned from the Westport Papers is found on page 161. Order from Athlone County Roscommon to Colonel John Browne's iron works in County Mayo, delivery without delay of 1,200 horseshoes to Captain Denis Kelly for the use of his own troops and 2 other new troops of Sarsfield's regiment – with a note on the back of the order from Denis Kelly of Athleague, County Roscommon that the shoes are to be delivered to his Quartermaster Doyle (dated 1 June 1691).
The Battle of Aughrim was fought in July 1691. Captain Denis Kelly may have been Elizabeth Kelly's grandfather. Captain Kelly's Kellys may have been from the Athleague line of Kellys. However, it is only possible to speculate about that. For example the will of Captain Kelly's son Denis Kelly mentions: "…that in case my daughter Elizabeth Browne and her Husband should not be disposed to reside at Lisduff a Lease should be made of the Lands of Lisduff, Carmurkogue and Carrow …" These lands are located in County Galway between Athenry and Ballinasloe (not Athleague). People around Captain Kelly's period were usually of generation 38-39-40 on O'Donovan's Ui-Maine pedigree chart. Here is some of that story.
The Brownes
Further back in time, the Westport Brownes are thought to have been a branch of the noble house of Browne that included the Barons Kilmaine and Viscounts Montagu (All English Catholics). Colonel John's (1638–1711) great grandfather Captain Browne (d1589) had established one of the first independent military companies in Mayo during the reign of Elizabeth I and became the first High Sheriff of County Mayo, "the first Englishman that in the memory of man settled himself to dwell in the county of Mayo". His grandson Sir John Browne was created a baronet in 1632. Sir John's second son was Colonel John Browne (1638-1711). As far back as the reign of Queen Elizabeth I, the Browne family were recognised as the greatest landowner in County Mayo. Presumably that's how they made their initial fortune.
The Brownes also did well marrying the daughters of prominent judges. Colonel John Browne's son Peter Browne (1660-1722) married Justice Denis Daly's daughter Mary Daly. Justice Daly (1638-1721) was an Irish Judge and Privy Councillor, like Colonel Browne he conformed about 1709, a pragmatic decision taken to avoid the penal laws and maintain his position and property. His great grandson was Denis Daly (1748 – 10 October 1791) Mayor of Galway and MP for Galway. His son was James Daly, 1st Baron Dunsandle and Clanconal (1 April 1782 – 7 August 1847).
Penal laws were first passed in 1695 with even tighter laws following such as The Act to Prevent the Further Growth of Popery in 1704. These prohibited a Catholic from buying land, inheriting land from a Protestant, or taking a lease for a period of longer than 31 years (A protestant heiress that married a Catholic was effectively disinherited under an act of 1699).
The 1709 Act further strengthened all of these provisions, including prohibiting Catholics from practising law, from holding office in central or local government, from membership of grand juries and municipal corporations and from service in the army or navy. The 1709 laws appear to have finally forced the hand of many Catholics to conform or leave, particularly lawyers and the land rich such as Colonel Browne (1638-1711) and Justice Daly (1638-1721).
I did not find much about Peter Browne (1660-1722) and Mary Daly, however, their son John Browne (1709-1776) was educated at Christ Church, Oxford. He matriculated in 1725 and thereafter did well. He was raised to the Peerage of Ireland as Lord Baron Mont Eagle of Westport (1760-1768), created Viscount Westport (1768-1771) and then further honoured as the 1st Earl of Altamont in 1771. It was he who commissioned the first grand house at Westport in about 1730. He married Anne Gore (1729-1771), daughter of Sir Arthur Gore, and they had 10 children.
Their eldest son, Peter Browne (1731-1780) was the 2nd Earl of Altamont (also MP for Mayo in the Irish Parliament 1761-1768). He married Elizabeth Kelly (1733-1765) in 1752 when he was 21 and she was 19. The marriage was a huge success for the Browne and Kelly families.
The Kellys
Elizabeth was the daughter and heir of Denis Kelly (1690-1757). Denis was a Galway Kelly (from Lisduff), probably a Ui-Maine Kelly but his link to O'Donovan's Ui-Maine pedigree is not clear (possibly Athleague Kellys who descend from Brian the second grandson of William Boy O'Kelly). Denis was well known so it is surprising O'Donovan overlooked his place in the pedigree.
Elizabeth's father Denis Kelly was one of at least seven brothers (Edmund, Denis, Charles, Darcy, John, Bryan, Patrick and Bernard). Their father was also called Denis Kelly (married Elizabeth Meade). He may have been the Captain Denis Kelly from Athleague.
Working off the available dates, Captain Denis Kelly was probably generation 39 of the Ui-Maine Kellys. He probably conformed between 1699 and 1709 (just like Colonel Browne and Justice Daly). My guess is that Captain Denis Kelly lived his life between 1660-1730.
At least five of his sons went to Jamaica in the early 1700s (the younger ones Bryan, Patrick, and Bernard may have stayed in Ireland). At the time Jamaica was a commercial hot-spot for slavery based enterprises such as sugar plantations. The brothers were successful businessmen and administrators.
At the time overseas business interests provided relief from the oppression of Ireland's penal laws for non-conformers. Eventually the family did conform but it is not clear to me whether the family did so before or after the sons went to Jamaica.
Edmund Kelly (1690-1728) was the eldest son. He was Jamaica's Parliamentary Speaker in 1719 and Attorney General in 1717-1721. He was also the member of the Assembly for St. John (1711), for Port Royal (1718, 1719, 1721 and 1722), St. Dorothy (1721, 1722) and St. Marys (1723). In 1719 he married Mary Fuller daughter of Charles Fuller and Catharine Maria Byndloss (Charles was the son of Colonel Thomas Fuller). He died 1728 in France aged 52.
Charles Kelly (1694-1731) was the Registrar in Chancery and Clerk of Patents. He was also the member for St. Mary in 1725, for Clarendon in 1726-7, for St. David, 1727, 1728 and 1731. He married Sarah the daughter of Colonel James Risbie on 14 January 1723 and died in 1731 aged 36. He is buried in the parish church of St Catherine's (now a cathedral) next to the remains of his children Jane, Mary and Edmund.
Darcy Kelly (1698-1731) was a member of the Assembly for St. David in 1728. He died aged 32 and is buried at Port Royal.
John Kelly died in 1740. I did not find much more about him but there is a good story about his son Robert being taken by pirates.
There are various notes about their success and I am sure there is more to find out about the character of their lives in Jamaica. It seems they were very much part of the colonial government. Edmund married the grand-daughter of Colonel Thomas Fuller (died 1690). Colonel Fuller was one of the first settlers in Jamaica and is buried at St Dorothy's church. A soldier of fortune under Venables he was amongst the earliest settlers in Jamaica. His son Charles Fuller (1677-1706) married Catherine Maria Byndloss, second daughter of Colonel Byndloss in 1695. They had a daughter Mary Fuller who Edmund married in 1719. The note of this marriage records that Edmund Kelly, then the Attorney-General was related to John Kelly the Clerk of the Grand Court and Charles
Kelly the Registrar in Chancery. They married respectively, Margaret, and Sarah, daughters of Colonel James Risbie (1677-1740), another prominent colonial administrator.
Of the Kelly brothers of Jamaica Denis Kelly (1690-1757) lived the longest. He was a member of the House of Assembly for Clarendon (1726-1727) and for St. Dorothy (1728-31, 1732, 1735, 1745 and 1747). He was the Chief Justice of Jamaica from 1742-1746 (during which there was famous case between Edward Trelawney the Governor of Jamaica from 1738 to 1752 v Rear-Admiral Sir Chaloner Ogle 1742). Denis died in Ireland in 1757 aged 66 in a freak vehicle accident.
Denis Kelly married Priscilla Halstead in 1725 in Jamaica. She was from a merchant's family and their daughter Elizabeth was born in Jamaica in 1733. It appears that Denis also had other children. The records show another marriage and children with Ann Wright (two daughters Mary b1738 and Margaret b1740). Denis left Margaret money in his will should she reach the age of 18 (the will was made in 1754 and Denis died in Ireland 1757, at that time the will was made Margaret would have been 14 and living in Jamaica). Research shows there may have been another child – Priscilla Kelly. She is recorded as the daughter of Denis Kelly and Favell Bourke, however, just to confuse things his will also gifts money to his grand-daughter Priscilla Browne. Of course Elizabeth Kelly married John Browne in 1752 in Ireland, however, there is no mention of them having a daughter called Priscilla. So how are Margaret Wright, Priscilla Kelly and Pricilla Browne related to Denis Kelly?
Well Priscilla Browne may have been the first child of Elizabeth Kelly. She married in 1752, Denis made his will in 1754 and died in 1757. Elizabeth's eldest son was born in 1756 and does not crack a mention in the will. So all is not clear (there are other possible links to other people such as Margaret Wright and Priscilla Kelly?).
In 1754 Denis was recorded as still owing large tracts of land in Jamaica, mainly west of Kingston including 2365 acres in St Dorothy, 1200 acres in St George, 300 acres in Clarendon and 137 acres in Vere.
Denis returned to Ireland sometime after 1746. In 1752, Elizabeth, his only daughter and heir married John Browne the 2nd Earl of Altamont. Perhaps it was no coincidence that having been Chief Justice of Jamaica he was happy to see his daughter marry the grandson of Justice Daly. Further, both families shared a history of once being Catholics who conformed to the Church of Ireland for the good of their families.
A good match it was, Elizabeth Kelly (aged 19) married John Browne (aged 21) the 2nd Earl of Altamount. They had five children, John Denis (1756-1809 ), Charlotte (1759-1849), Denis (1763-1828) and the twins Elizabeth (1765-1795) (in 1786 she married Sir Ross McMahon the 1st Baron) and Anne (1765-1814).
Elizabeth's father Denis met his death in Ireland by an accident in 1757. The London Chronicle reported that an eagle attacked the horses pulling his carriage. The horses took fright, the carriage careered out of control and rolled. Denis died of his injuries soon after. Elizabeth was with him and survived with only minor injuries. Thus Elizabeth carried the distinction of having her father killed by an eagle and a father-in-law who was called Lord Baron Mont-Eagle. Such is life.
Because Denis was the only one of his brothers to have a legitimate heir the net effect of the brothers' combined wills of succession was that on Denis' death the bulk of the property devolved to his only daughter Elizabeth Kelly (1733-1765). Thus in 1758 (aged 25) Elizabeth inherited a colossal
estate that included the Jamaican sugar plantations and the Kelly ancestral Irish estates of Lisduff in County Galway and Spring Garden in County Mayo.
Tragically Elizabeth died relatively young, in 1765 aged only 32, the eldest of her children not yet aged 10. She died the same year her last children were born, the twins, thus her death appears to have been caused by childbirth. After Elizabeth died substantial improvements were commissioned from the Westport house, possibly around 1770s.
The 1st and 2nd Earl of Altamont died in 1776 and 1780 respectively. They were succeeded by Elizabeth's eldest son John Denis Browne (1756–1809) who took the title of the 3rd Earl of Altamont in 1780 (aged 24). Like his father and grandfather John Denis Browne was an Irish peer and politician (MP for Jamestown in the Irish Parliament 1776-1780). In 1800, at the time of the Acts of Union, he was elected one of 28 original Irish representative peers for life, appointed to the Knight of the Order of St Patrick and made the 1st Marquess of Sligo (aged 44). Such an elevation in the peerage was probably at least partly due to the increased wealth that Elizabeth had brought to the family. It was around then the Browne family started to develop the town of Westport.
Another of Elizabeth's sons Denis (1763-1828) also lived an interesting life. His nick-name was Denis the rope. (MP for Mayo 1782-1800 and an Irish Privy Councillor and after Union in 1800 MP for Mayo 1801-1818).
John Denis Browne (1756-1809) married Lady Louisa Catherine Howe (picture of Lady Louisa attached). Their son Howe Peter Browne (1788-1845) succeeded as the 4th Earl of Altamont, the Viscount Westport and the 2nd Marquess of Sligo. In 1816 he married Hester Catherine de Burgh (picture of Lady Hester attached), daughter of John de Burgh, the 13th Earl of Clanricarde).
Howe Peter Browne was appointed Governor of Jamaica in 1834. He supported the abolition of the slave trade and the freeman village of Sligoville, Jamaica is named in his honour. In the 1840s, he suffered a debilitating stroke and thereafter Lady Hester ran Westport and its related affairs. He died in 1845. A collection of over 200 letters written by Lady Sligo is housed at Ireland's Great Hunger Institute at Quinnipiac University in the USA. (Hamden, Connecticut). She died in 1855.
The Browne-Kelly line continues today and, as with many of the landed families of 1700-1800 Ireland, there are numerous interconnecting marriages between them.
Below is a composite picture of Elizabeth (she was the daughter of the Chief Justice of Jamaica and she married the Second Earl), her daughter-in-law Louisa who married Elizabeth's son (the Third Earl) and Elizabeth's grand-daughter in law Lady Hester Catherine de Burgh who married Louisa's son (John Denis the Fourth Earl, the second Marquess who was to become the Governor of Jamaica).

Further Notes: http://hobkirk-and-stone-family-tree.blogspot.com.au/search/label/Kelly
Anne Powers' book "A Parcel of Ribbons: Letters of an 18th Century Family in London and Jamaica" is about the early 18th century African-Jamaican slave trade and it drew me to some interesting Kelly connections.
Anne's book is told from the point of view of the correspondence of the then Solicitor General of Jamaica, Robert Cooper Lee (1735–1794) from whom members of the Bevan's and Barclays' descend (of Barclay's Bank).
Robert Cooper Lee (1735–1794) was the son of Joseph and Frances Lee of England, Robert married Priscilla Kelly, the daughter of Denis Kelly (1690-1757) and Favell Bourke.
Robert and Priscilla's daughter was Favell Bourke Lee (1780–1841) and she married the banker David Bevan (1774–1846). Robert Cooper Lee Bevan (1809-1890) was the fifth child and eldest surviving son of David Bevan (1774–1846) and Favell Bourke Lee (1780–1841).
Robert Cooper Lee (1735–1794), who was at one time the Solicitor-General of Jamaica, was later a London-based West Indies merchant and several branches of the Hobkirk and Stone Family Tree descended from Robert Cooper Lee.
Robert Cooper Lee Bevan was educated at Trinity College Oxford, an evangelical Christian he followed his father's footsteps and became a partner in the Barclay, Bevan and Tritton's Bank, now Barclays Bank plc.
---
Tour to Mayo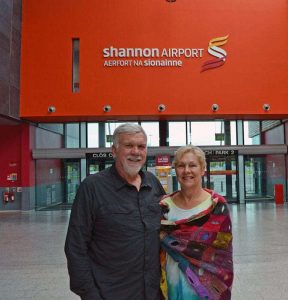 Tour organizers and hosts Mike Healy and his wife, Victoria Christie-Healy with Ireland RnR Tours based in the USA.
As noted in previous newsletters, some of our readers may be interested in the Mini-Reunion Kelly Tour to County Mayo, which is now scheduled for 23 – 30 September, 2018. Registration closes by the 15th of June, 2018. For more details and other possible tours, check their website!
http://www.irelandreunions.com/kelly-families-gathering/
---
Kelly Gathering 2019
Venue chosen for next Kelly Clan Gathering 17, 18, 19 May, 2019
Hodson Bay Hotel in Athlone, Co. Roscommon (overlooking the Shannon River)
If you know of anyone in the Athlone area who would like to be involved,
please have them contact us.
---
Sites of Interest:
The Ireland XO Chronicles bring to life the heritage of a community by documenting the people, the buildings and the events that existed at any time in the history of the parish.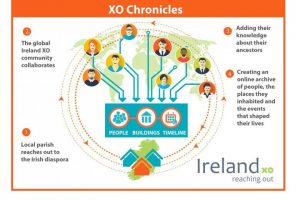 People of Irish descent, all over the world today, are connected by ancestry to places, people and events in Ireland. This connection is by definition a local one. Nurturing and maintaining this bond requires worldwide collaboration, while at the same time maintaining ownership at a local level in Ireland.
Making local information available and creating a repository of information about the genealogical heritage of a parish is a fundamental step in making connections with our Irish diaspora worldwide. Showcasing our local ancestry and heritage, to the world, and inviting them to connect with us and also to contribute to our knowledge is a way to engage both the diaspora and local communities, as well as creating a valuable resource that collects and showcases information regarding our ancestral heritage.
Ireland XO Chronicles – Objectives
To identify every person who ever lived, left or had any interests in the parish.
To identify every building that ever was in the parish and to connect them to the people who lived, worked or studied there.
To know the events, in as far as that is possible, of what happened on a daily basis in the parish over the years and how they might have impacted the people living there.
To collect and display the above information in a way that is organised and created at a local level but that can be contributed to and accessed easily from anywhere in the world.
(Editor's Note: For the online publication, sign up on the website.)
---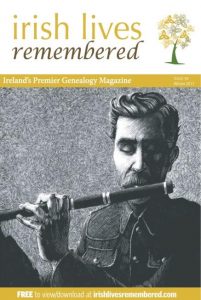 The winter Edition of Irish Lives Remembered has a musical theme and features articles on:
–Music in the life and Eath of Irish Patriot Michael Malin (1874-1916) by Sinead McCool;
–Ireland's Greatest Band Leader and Musical Innovator – Patrick Sarsfield Gilmore (1829-1892) by Jarlath MacNamara;
–The Life of County Offaly Musician Henry George Farmer (1882-1965) by Stephen Callaghan;
–Jackie Clarke and Francis O'Neill: Saving Ireland's History and Music by Maureen Wlodarczyk;
–The Chair of Strong Ned Flaherty by Eamonn "Ned" Kelly;
–Your DNA Can Take You on a Wild Genealogical Adventure by Maurice Gleeson;
–remembrances of a Monaghan Family's Life by Niall Roycroft;
–visiting Where Your Ancestors Came From. An Adoptee's Experience by Penny Walters;
–remembering the 33 Orphaned girls from Mountbellew Workhouse: From Galway to Australia in 1852/53 by Paula Kennedy;
–David Cossart in Dublin, 1679-1680 by Raymond Gillespie;
–Resources for Tracing Your Irish Jewish Roots by Stuart Rosenblatt;
–Photo of Granny McKay isn't Granny Kay, it's an English Intelligence Officer (Photodetective) by Jayne Shimpton;
–The Latest Update on Find My Past by Niall Cullen; Dear Genie column and book reviews
(Editor's note: For current and back issues, sign up on the website.)
---
SUBSCRIPTIONS TO THE KELLY CLAN
If you would like to subscribe to Kelly Clan please go Here.
We have the following levels of membership;
Family – €30.00
Single – €25.00
Lifetime – €250.00