KELLY CLAN GATHERING 2013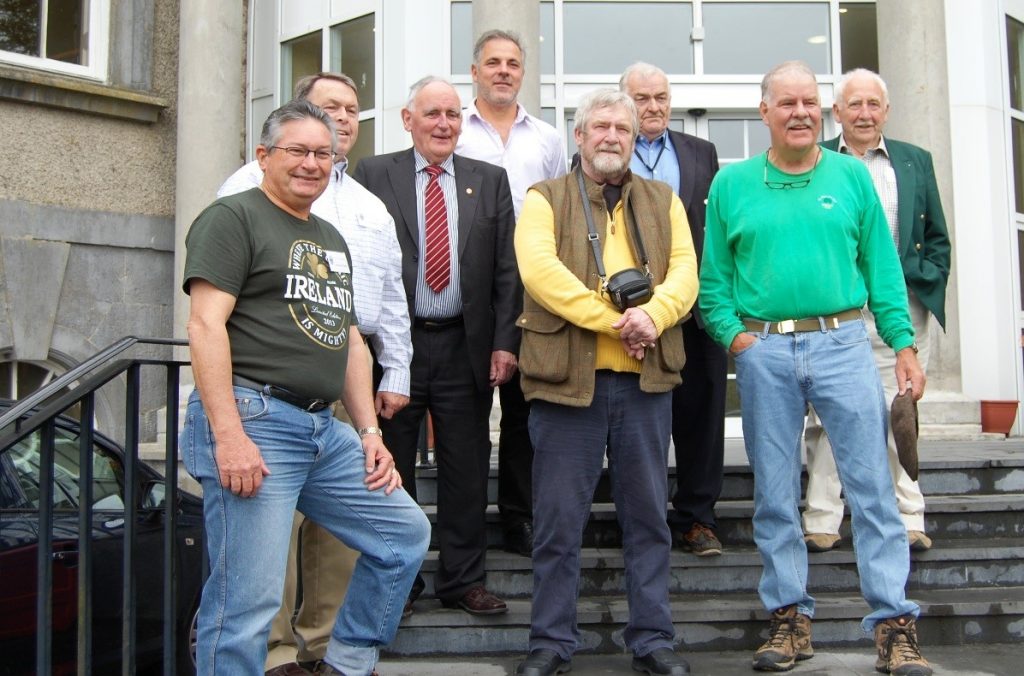 Some of the "Kelly Boys" At the 2013 Kelly Gathering in Dundrum. Co. Tipperary l-r Michael Martin ,Aus. Larry USA
Michael,Galway Aidan Aus Dr Joe Galway Joe UK, Joe Cav Dublin Joe USA.
What a Gathering we had at Dundrum House Hotel, Co Tipperary! It was wonderful to see so many people there, with many new and interesting faces arriving. Throughout the whole weekend there were constant conversations going on with stories of lost and found relatives, places visited, ancestral roots etc. etc. What an eclectic mix of people – from the quiet gentlemanly mannered
Fr. Juan Pablo Torrebiarte – who travelled all the way from Guatemala – to the gregarious, outgoing, Joe "AK". Joe accepted the accolade of "Chieftain" for the weekend with his usual humour and entered into the spirit of things, donning clothing fitting for the part, with his usual sartorial elegance!
We were delighted that local man, Alan Kelly, TD was able to join us, treating us to a talk on his family history, life in the Dáil and then posing with members for photographs. Our guest for the evening banquet was Séan Kelly MEP. Sean gave us a very entertaining talk, covering stories of the GAA and a typical day in his life "in the office". Alan and Séan both gave us valuable insights into their family and political lives. We were also delighted to receive a personal message of good wishes from the Taoiseach, Enda Kenny, whose wife Fionula is a Kelly. It's good to hear that the Kelly name is known in "high places"!
Other highlights of the weekend included both an informal forum and formal presentation on the Kelly Clan DNA programme given by Aidan Kelly; a talk on Ned Kelly by Terry Cunningham, and the account of an Australian immigrant family by descendant, Michael Martin Kelly. The daytime tour took us around the exceptionally beautiful Tipperary countryside taking in areas frequented by John "Red" Kelly. This culminated in a fantastically orchestrated robbery attempt performed by the local historical group.
The evening's entertainment was provided by the beautiful harpist, Laoise Kelly who treated us to some lovely renditions of traditional music to much applause. For more information on Laoise please see her website www.laoisekelly.ie
Sunday Mass was concelebrated by Rt. Rev. Celsus Kelly and Fr. Juan Pablo Torrebiarte in the church at Donaskeagh with members of the Clan making up a choir, led by Tom Mernagh.
The AGM included election of new Council members and a discussion of possible venues for the next gathering in 2015, followed by lunch with presentations for two long time members. After a long and difficult leave-taking, the Kellys left this lovely venue with promises to enjoy future gatherings, wherever they may be held.
Our next Gathering will be held on 15, 16 and 17 May 2015 in the Castlecourt Hotel, Westport, Co Mayo